Differences Between the 2021 Suburban and Tahoe | Grand Prairie, TX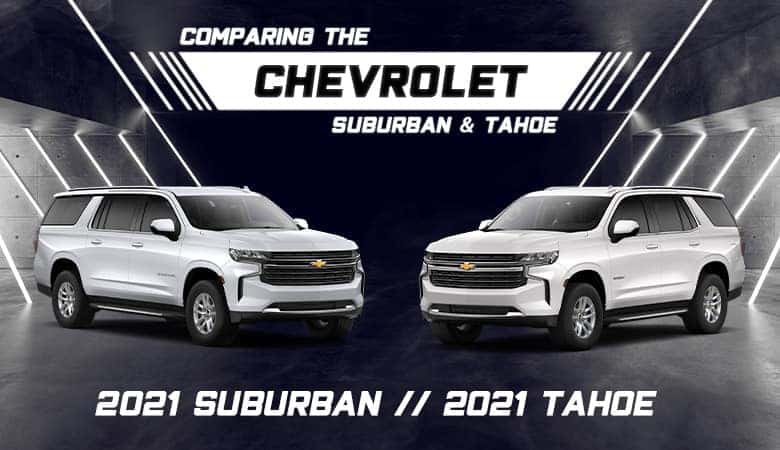 The 2021 Chevrolet Suburban and Tahoe are both fantastic options for large families and frequent travelers, coming with plenty of space for all of your passengers and gear. Nevertheless, these models have some key differences, which are important to keep in mind when choosing your next vehicle.
Capabilities
Although the 2021 Suburban and Tahoe offer the same three-engine lineup, they differ in terms of capabilities. When properly equipped, the Suburban has a maximum towing capacity of 8,000 pounds and a maximum payload capacity of 1,759 pounds. The Tahoe, on the other hand, can tow up to 8,400 pounds and carry a payload of up to 1,834 pounds. Either way, you will be able to transport plenty of items around Grand Prairie, Texas.
Interior space
The Suburban has slightly more passenger volume for up to nine passengers at 181.9 cubic feet, compared to 179.7 cubic feet in the Tahoe. The Suburban also has more cargo space, no matter how many seats are folded down. Behind the third row, it offers 41.5 cubic feet, while the Tahoe offers 25.5 cubic feet. With the rear rows folded down, the Suburban has a maximum of 144.7 cubic feet, while the Tahoe has up to 122.9 cubic feet. This is one of the reasons the Tahoe offers the lower starting price.
Check out both of these three-row SUVs and schedule test drives in them at Graff Chevrolet in Grand Prairie, Texas.