The Difference Between Truck Sizes | Grand Prairie, TX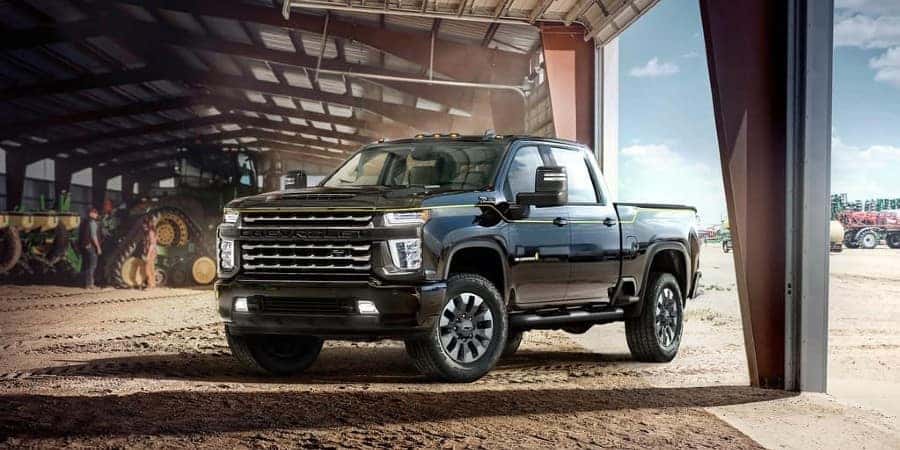 It's no secret that America is in love with pickup trucks. With all the size and power options, it can be difficult to choose which model is right for you. Consider these key differences, and contact us at Graff Chevrolet if you need more help.
Power
The simplest difference between compact, light-duty, and heavy-duty trucks comes down to power. While all of them are capable weekend warrior trucks, if you have a lot to move or need a daily workhorse you'll need more truck to do it.
When it comes to the Chevrolet line of trucks, the compact body of the 2021 Chevy Colorado can tow a respectable 3,500 to 7,000 pounds when properly equipped. That's enough to take a camper with you on an adventure, or pull a trailer when you move houses.
To bump up performance, the 2021 Chevrolet Silverado 1500 can tow up to 13,300 pounds when properly equipped. Not only does this mean you can buy a larger camper, but it also gives you more flexibility when you're deciding what gear to bring along for the ride.
As the Chevy Silverado gains numbers after its name and enters heavy-duty truck status, its towing numbers also climb: The 2021 Chevrolet Silverado 2500 HD can tow up to 18,500 pounds, and the Chevrolet Silverado 3500 HD achieves a whopping 36,000 pounds, all when properly equipped. This makes using weight-distributing hitches or maneuvering double-axle trailers easy, whether you're on a job site or headed out on vacation with a boat.
Trailering Features
While all trucks in the Chevrolet lineup are capable of towing with the right equipment, the beefier models tend to have more available features to help them handle the larger trailers and payloads. For example, when you move up from the Chevrolet Colorado to the Chevrolet Silverado 1500, you can add the Chevy Advanced Trailering System. A first for the Silverado 1500 segment, this in-vehicle trailering app lets you set up profiles for eligible trailers that you commonly pull so you can monitor everything from trailer tire pressure, temperature, or utilize a pre-departure checklist. The Advanced Trailering System is also available on the 2021 Chevrolet Silverado HD models.
Besides the Advanced Trailering System, the camera systems also grow as you move up the Chevrolet truck lineup. The smaller Chevrolet Colorado is available with a standard rear vision camera, or you can upgrade to an HD Rear Vision Camera to see behind the truck as you maneuver. The Chevy Silverado 1500 beats out all of its other non-General Motors light-duty truck competition with up to 15 available camera views to help you view the truck from above as well as hook up to your trailer and park faster. As you move up to the Chevrolet Silverado 2500 HD and 3500 HD models, those trucks are also available with the 15 camera views.
Fuel Efficiency
The Chevrolet trucks get more powerful as you go up the line, and that power sometimes makes the fuel efficiency take a hit. The compact Chevrolet Colorado can achieve up to 18/25 city/highway mpg while on the road.* If you do want a larger truck but don't want to sacrifice all of the fuel efficiency possibilities, check out the available Duramax® engine in the 2021 Silverado 1500. With it, the 2021 Chevy Silverado 1500 can achieve up to 23/33 city/highway mpg.**
---
The Chevrolet truck family has many options under the hood and in the cab. Contact us at Graff Chevrolet in Grand Prairie, Texas, for more information about each model and how it can work for your needs. 
*EPA-estimated 18 MPG city/25 highway for Colorado 2WD with available 3.6L V6 engine. Based on segment-exclusive features. Excludes other GM models.
**EPA estimated. Silverado 2WD with available Duramax 3.0L Turbo-Diesel engine.